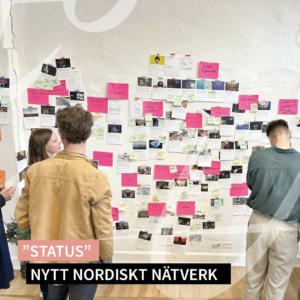 Under rubriken "STATUS" har fem musikorganisationer i Norden gått samman i ett nätverk för att undersöka förutsättningarna för den klassiska och experimentella musiken i de olika nordiska länderna. Initiativtagare är den danska organisationen SNYK.
The Danish organisation Snyk has facilitated a community together with four different nordic music organisations, with the intention to share knowledge between the organisations in order to find new potentials and solutions to challenges for classical and contemporary music.
WORKSHOP
Last week, Snyk had the great pleasure of having a visit from the four music organisations which participate in our project STATUS. Music Finland, Unga Tankar Om Musik (UTOM), Music Norway, Iceland Music Information Centre (IMIC) and Snyk gathered for a workshop at the agency Bespoke. The aim of the workshop was to examine the status of classical and contemporary music in Denmark, Sweden, Norway, Iceland and Finland as well as to map potential opportunities for collaborations that can strengthen the music's condition in these countries. The collaboration will result in a catalogue of ideas, where we'll present a number of potential solutions to challenges which classical and contemporary music faces in the five countries. We look forward to sharing more about the knowledge that we've gathered in collaboration, when the catalogue of ideas will be finished later this year.
RECEPTION
In continuation of our Workshop at Bespoke, Snyk invited us all to a reception at their office in Musikhuset København, where project manager Viktor Wennesz first gave a tour around the house. Afterwards, Eline Sigfusson and Anni Syrjäläinen gave an exciting presentation of the nordic thinktank a/nordi/c, which was established earlier this year.
The STATUS project is funded by Nordisk Kulturfond and Augustinusfonden.